We're MPI Automotive, and we are Australia's one stop for everything involving performance exhaust systems, and high performance LED lighting.
Our warehouses are packed to the rafters with products from many great brands.
Why Choose MPI Automotive?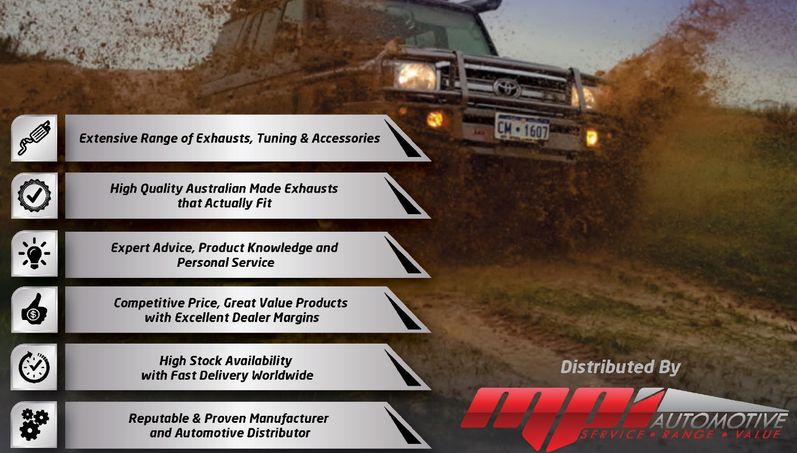 1. Extensive Range of Exhausts, Tuning & Accessories to fit Australian spec Vehicles
Manta has built up an incredible catalogue of exhaust systems to fit popular vehicle makes, models and series
Manta provide a vast array of exhaust system options, providing Aluminised Steel, Stainless Steel, multiple piping sizes, multiple sound options, different mufflers, hot dogs, catalytic converters, extractors and exhaust tips
To supplement Manta, MPI also supply the Xforce brand to provide our dealers with good quality and proven entry level exhaust system price point options for your customer.
2. High Quality Australian Made Exhausts that Actually Fit
Our factory uses world class machinery, lean manufacturing methods and employs a Total Quality Management System to ensure consistency of product manufacturing
MPI and Manta invest over 100 hours in Research, Development and Dyno testing for each popular performance or 4WD vehicle exhaust system
Our exhaust systems are developed to sound tough, maximise flow and improve vehicle performance and economy
Through extensive development testing, we perfect our exhaust fitment to give our dealer network hassle free installations
3. Expert Advice, Product Knowledge and Personal Service
We have knowledgeable long standing staff that can advise you on the different products and systems that suit the many Australian specification cars and 4WDs.
MPI staff consistently help our dealers with product recommendations, fitting advice and problem solving, and can customise solutions with the multitude of exhaust components we supply
Our staff are friendly, approachable and have a culture of going above and beyond to exceed customer expectations
4. Competitive Price, Great Value Products with Excellent Dealer Margins
MPI provide competitive pricing on our full range of exhaust components, our Xforce and Manta exhaust brands, and on our 4WD accessories range
Through engineering and/or selling exhaust systems with proven easy fitment, we reduce workshop installation time and labour costs, thereby reducing your total cost
Our global component product sourcing, coupled with massive volume buying allows MPI to provide high quality components at fantastic prices to our dealer network
5. High Stock Availability with Fast Delivery Australia Wide
Our large stockholding in our WA, Victoria and NSW warehouses means most popular exhaust systems and components are available for immediate despatch
Our long established freight logistics and supply chain ensures timely and consistent deliveries
If you require an out of stock item, MPI can "manufacture to order", providing an average 5 day turnaround time commitment
6. Reputable & Proven Manufacturer and Automotive Distributor
MPI Automotive and Manta Exhausts have a 45 year history of exhaust system manufacturing and distribution
MPI currently support over 500 Exhaust, Performance and 4WD workshops around Australia
Independent research conducted in 2016 with MPI dealers found 96% willing to refer MPI and Manta to others
Our proven and highly successful Manta brand is known internationally for quality, performance and fitment
Our Exhaust packages are chosen by some of the largest vehicle dealerships in Australia to provide a Value Add Performance package for their clients
Give us a call today to experience the MPI Automotive difference – you'll be glad you did!